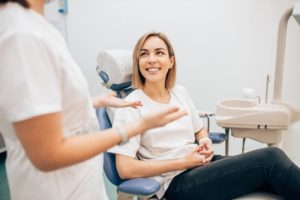 With the summer months approaching, you're ready to get outside and enjoy the bright-sunny days. If you're like most people, summer is a time when you're more likely to "throw caution to the wind." In the midst of having fun, though, it's important to be cautious, as some activities could pose a danger to your teeth and gums. As you continue reading, get some key tips for how to protect your smile and prevent oral health problems this summer.
Be Careful Eating Cold Foods
As the temperatures climb, you may find yourself grabbing popsicles, ice cream, snow cones and the many other super-cold customary summer treats. You'll want to be careful not to overdo it, though, as you could possibly experience some sharp sensations in your teeth. If this happens, it could stem from one of the following:
An exposed tooth root
A cavity that you weren't aware of
A shallow enamel (the outer layer of the teeth) bed
Be Mindful When Performing Dental Hygiene
If you're prone to tooth sensitivity, stay away from whitening toothpastes, as they contain added abrasives that could make the situation worse. A better option is to choose toothpaste made for sensitive teeth. You should also avoid using a toothbrush with hard bristles.
Limit Your Consumption of Sugary Beverages
The primary problem with sugar is that it attracts oral bacteria, which release acids when they are allowed to accumulate. Thus, the more sugar you consume, the greater your chances of experiencing tooth decay and sensitivity.
To be on the safe side, limit your intake of sweet tea, sports drinks, sodas, lemonade and juices. If you choose to indulge, be sure to brush and floss around 20-30 minutes afterwards.
Take Precautions When Playing Sports
If you're an active person, chances are you'll want to ramp up your efforts even more in the summer. Before participating in any sporting events, it's best to have a custom mouthguard made from a local dentist. Therefore, if you have a sudden collision (which can easily happen), your smile will be protected. It's much easier to take the necessary precautions beforehand, than to have to endure a painful dental emergency.
The start of summer is the perfect time to get in for a preventive care visit. In addition to leaving you with a clean set of teeth, it will provide you with the peace of mind of knowing the condition of your oral health. Therefore, you won't have to worry about any interruptions to your joyous summer fun!
About the Author
A graduate of the University of Michigan, Dr. Steven Rodriguez has nearly 30 years of experience in the dental field. Throughout his career, he has managed to stay abreast of the latest advancements in dental techniques and technology by completing several hours of continuing education. Dr. Rodriguez helps his patients prepare for the summer months by providing careful and compassionate preventive care at Healthy Smiles, and he can be reached for more information or to schedule a visit through his website.