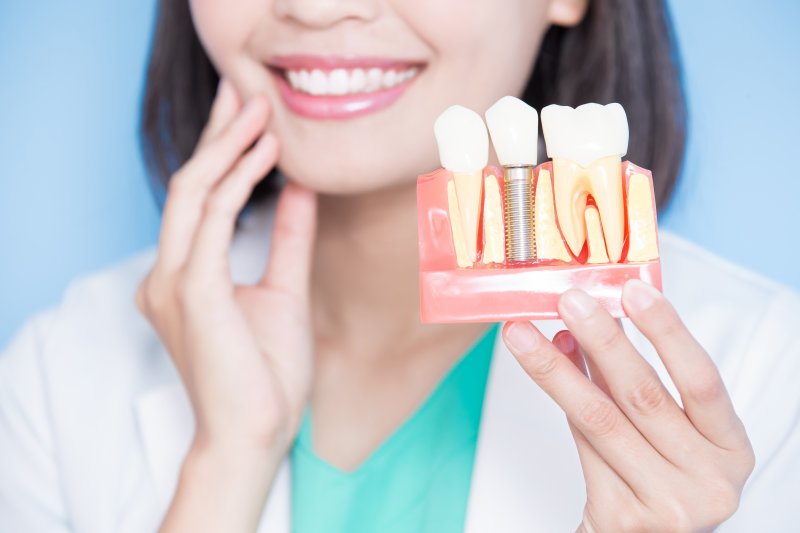 Do you have missing teeth? If so, you know from experience how much it can affect your quality of life. Luckily, dental implants are an excellent solution to restore your smile! They're considered the gold standard of tooth replacement, helping patients eat, speak, and say cheese with complete confidence once again. But before moving forward with treatment, you may be wondering how they'll feel in your mouth. Well, we've got an answer for you. Continue reading to find out what you can expect from dental implants.
What Are Dental Implants?
If you're thinking about getting dental implants, you surely want to know what they are. A dental implant is a medical device that's surgically inserted into the gum line, restoring the root of any number of missing teeth. Because the post is made of titanium, it's able to fuse with the jawbone through a natural process called osseointegration. As a result, it creates long-lasting and sturdy support for the replacement teeth. With proper dental care, you can enjoy your new smile for several years – sometimes even a lifetime!
Do Dental Implants Feel Natural?
After dental implant placement, it's normal for patients to experience a slightly strange sensation while attempting to eat. However, as you slowly begin to adjust to your new smile, things like eating will eventually become more comfortable for you to do. One day, you'll realize your dental implants feel just like natural teeth! Additionally, because the metal is implanted directly into the bone, you won't have to worry about having a lingering metal taste in your mouth. You'll be able to savor and enjoy all your favorite foods once again.
Benefits of Dental Implants
You can expect to reap several benefits with dental implants, such as:
Fully restored tooth. As mentioned earlier, the titanium implants fuse with the surrounding bone tissue through a process called osseointegration. Once fully healed, a restoration will be attached to the implant, completing your smile, and giving you a full set of teeth once again.
Improved comfort. Unlike other methods of tooth replacement, your restorations are permanently attached to your implants, acting very much like natural teeth. That means you won't have to worry about them slipping and sliding around your mouth!
Unaffected biting power. With dental implants, your biting power will not be affected at all, meaning you can enjoy all the same foods you did before you had missing teeth.
If you're ready to start your journey with dental implants, contact your dentist and ask how you can begin. With their help, you can enjoy a natural-looking smile that feels and acts just like your old one!
About the Practice
At Healthy Smiles Dental Care, we provide exceptional, high-quality, compassionate dental care that's guaranteed to leave you smiling after every appointment. Our team uses the latest techniques and technology to ensure you receive the best treatment possible. If you have missing teeth, we can restore your smile and confidence with dental implants. Visit our website or call (231) 563-6878 to make an appointment.