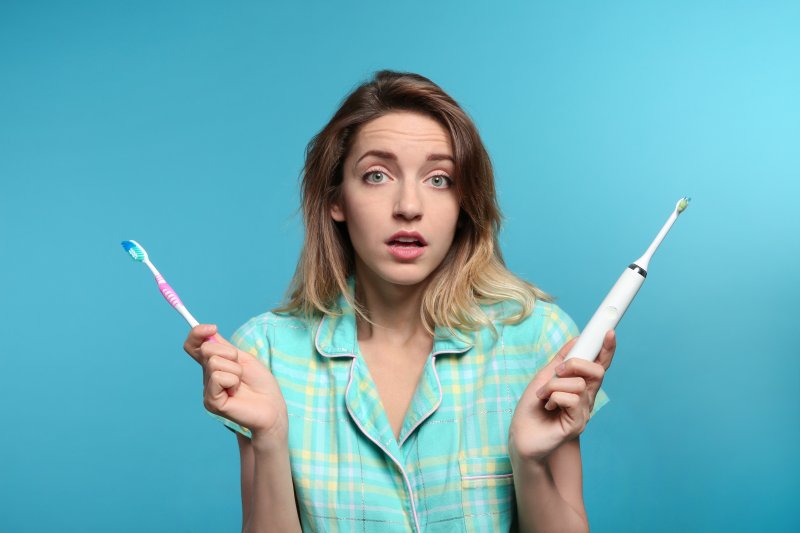 Everyone knows that you must brush your teeth at least twice a day for two minutes each time. It helps remove food particles, plaque, and other debris from your mouth, protecting it against several oral health problems! But what most people don't know is that your toothbrush plays a crucial role in keeping your teeth and gums healthy. While manual and electric toothbrushes are effective, how do you choose the right type for your smile? Read on as your dentist in Muskegon shares the pros and cons of each one.
Electric Toothbrush
The bristles on an electric toothbrush vibrate or rotate to remove plaque buildup from your teeth and gums. It's typically rechargeable or battery-powered and has multiple speed settings.
Benefits
Cleaner teeth. Studies show that electric toothbrushes are much more effective at removing plaque than manual ones. They also significantly lower your risk of gingivitis.
Easier operation. Since electric toothbrushes require less effort, people with limited mobility find them extremely easy to operate.
Less waste. In most cases, you only have to replace the toothbrush head rather than the entire thing. That's less wasteful than throwing away a full manual toothbrush!
Better focus. One study revealed that electric toothbrushes improve focus and concentration while brushing, helping people achieve better and cleaner results!
Downsides
Costly. Electric toothbrushes are certainly more expensive than manual ones. Prices often range from $15 to $250 per brush.
May be inconvenient. It might be challenging to find the right replacement brush head since not all stores carry them.
Not travel-friendly. If you have a plug-in version, you might not be able to use it if you travel internationally. In most cases, you might need to carry a backup travel brush.
Manual Toothbrush
Manual toothbrushes have been around for a very long time – and they're still just as effective at keeping your teeth clean and preventing dental issues!
Benefits
Accessible. You can purchase a manual toothbrush almost anywhere. Grocery stores, gas stations, dollar stores, pharmacies – you name it! Plus, they can be used anywhere at any time.
Affordable. A manual toothbrush can be purchased for $1 to $3. Your dentist might even give you a new one for free at every bi-annual checkup!
Manageable. Manual toothbrushes don't take up much space, making your life a little easier to manage!
Downsides
More likely to brush too hard. One study found that people are more likely to brush vigorously with a manual toothbrush, harming gums and teeth.
It takes more work. You will need to do a bit more work to generate the circular back and forth motion necessary to clean your teeth and gums properly.
No built-in timer. With a manual toothbrush, you won't be able to tell if you're brushing for the full two minutes since there's no built-in timer.
Overall, both electric and manual toothbrushes are equally capable of keeping your teeth clean and healthy. If you're having a hard time deciding between the two, ask your dentist in Muskegon what they recommend. They can help you decide based on your unique oral health needs!
About the Practice
At Healthy Smiles Dental Care, we provide the best quality of treatment using the latest techniques, technologies, and materials. Our goal is to help you and your family achieve beautiful, healthy smiles that last a lifetime. If you have any questions about the type of toothbrush you use, our team is more than happy to answer them! We'll help you decide the best one for your oral health. Visit our website or call (231) 563-6878 to schedule an appointment.